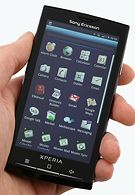 The Sony Ericsson Xperia X10 has received another preview, this time from PhoneArena who also posted their impressions in a video. Overall they were quite positive on the handset saying that if it were to be released on the market today it would be a "smashing hit".
They praised the great design and UI as well as its 1GHz Snapdragon processor, 8.1MP camera and 4-inch screen. The preview also includes a number of indoor and outdoor sample photos. Click through for a summary of the key preview points along with a video.
Key preview points of the Xperia X10:
The GSM version of the phone will be able to be used on the T-Mobile US network using its 1700MHz 3G band. The US version of the phone (X10a) will support AT&T's 3G network.
The handset doesn't feel any bigger than the iPhone, despite the inclusion of a 4-inch screen.
The rounded back feels comfortable in the hand and the matte finish (on the black version) helps to keep a grip on the phone.
The sensitivity of the capacitive touchscreen is "perfect".
The handset includes a 3.5mm jack and micro USB port.
The image quality is very good with really saturated colours. Its interface has many options, including white balance, image stabilization, various focusing modes (macro and touch focus are included).
The Timescape and Mediascape functions are also described but have been covered extensively here before.