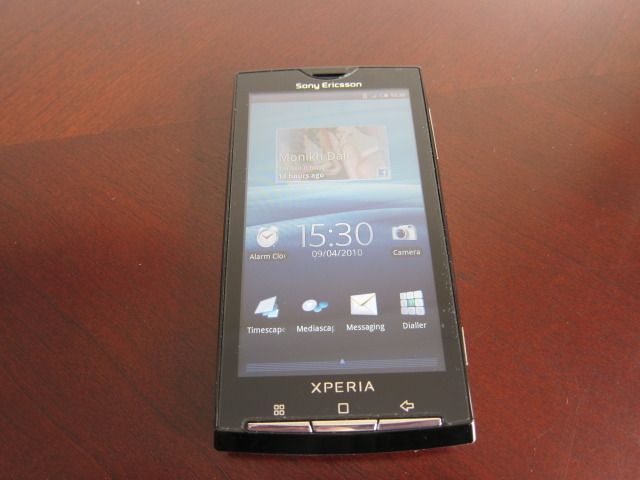 Here are my initial impressions of the Sony Ericsson Xperia X10 after 24 hours of use. My preconception of the X10 before getting hands on was a feeling that it may be too big considering its 4-inch display. However, I was pleasantly surprised how usable it was one-handed and also how lightweight it was. I've previously owned the Samsung i8910 Omnia HD that has a 3.7-inch display and as you can see in our unboxing video, the Xperia X10 is no taller.
I was also pleased with what was included in the box. This included a 16GB microSD card (class 2), screen protector and MW600 Bluetooth stereo headset. I also noticed afterwards that SE have pre-applied a screen protector that is a bonus (some people may be annoyed by this). We know that all box contents aren't the same, but most we know of included at least a screen protector, that's more than most other manufacturers include. Check out further opinions after the cut.
Build: Build quality is also very good with no creaking panels. It just feels very solid in the hand that makes it a delight to hold. What we're less impressed with is replacing the battery cover that feels a bit fragile and doesn't click satisfyingly into place. I am only talking about the process of attaching the cover here, once attached it feels solid.
Browsing: Surfing the web is very fast, rendering pages is quick. I'm used to pinch-and-zoom which is quite practical for browsing but it's something that I can live without it.
SE Apps: I've only had a chance to play around with Timescape and Mediascape a little, but I have to admit that I really like Timescape. Some people pointed to lag in previous builds, but I find it to be very quick and zippy. I didn't realise that it ties in most of the experiences of the handset (missed calls, pictures taken) along with social media updates from Facebook and Twitter. Having the Timescape widget on the front screen works well and you can constantly see what's happening in your stream. Mediascape is also nice, but doesn't seem as revolutionary compared to previous media players. However, I need to spend more time with this.
Camera: As well as the Xperia X10, I've also been playing with the HTC Desire. Hands down though the X10 is the best Android imaging device that I've used to date. The sensor used is of high quality and images taken so far have come out well. The biggest disappointment is the measly flash and its execution. To clarify it is not a flash but merely a light that needs to be toggled on/off. The brightness is quite poor and to access it you have to go through the advanced menu – why SE didn't include a touch button in the main UI is beyond me. We also would have liked to see a cover for the camera lens, unfortunately this is a trend many manufacturers are moving away from.
Camcorder: Video recording quality is also good. The maximum resolution capable is WVGA (800 x 480 pixels vs. 720 x 480 for D1) and comes with AAC sound, much better than AMR sound on the HTC Desire.
TFT Dispay: The 4-inch TFT display is bright and responsive. I have read some reviews that talk of issues with its responsiveness, but this is not something I've encountered on my handset. The display is bright and works well under all lighting conditions, something that can't be said for OLED screens (Samsung's Super AMOLED displays excluded).
Call reception: Signal strength appears to be a bit better than the HTC Hero I was using before. Won't have a better idea until I play with it more.