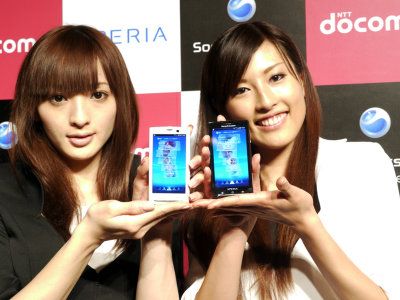 Sony Ericsson launched the Xperia X10 Android smartphone in early April through the NTT DoCoMo network. The X10, simply known as Xperia in Japan, has gone on to become the quickest selling smartphone in DoCoMo's history according to a Barclay's Capital report.
Figures show that the Xperia sold 120,000 handsets in less than three weeks beating the HTC Android (model unspecified) that sold 80,000 units across 10 months. It was the best-selling phone on the network in April, scoring even higher sales than the 32GB iPhone 3GS. It all makes for impressive reading. Click through for an excerpt of the report.
Barclays' Capital note on NTT DoCoMo:

"Last week we upgraded DoCoMo to Buy to reflect our increasing optimism that the company could be the big beneficiary of smart phone proliferation in Japan, given their high quality network and evolving philosophy.

DoCoMo's new smart phone, Sony Ericsson Xperia, has sold about 120,000 units within its first three weeks on sale; Tsusaka's data shows that the initial 100,000 unit shipment to distributors sold out in 10 says, but another 50,000 units delivered in mid-April, and a third set of 30,000 units is apparently scheduled for late April.

Stores which open on weekdays are mostly sold out. Sales of over 100,000 units make a positive contribution to the company's net increase in subscribers, so it looks very likely NTT DoCoMo will again have a top share of net add in April.

You can see that the Xperia handset is enjoying unprecedented demand compared to previous smart phones on DoCoMo's network:

Xperia sales versus DoCoMo's previous smart phones

Xperia 120,000 in 20 days
HTC Android 80,000 in 10 months
Blackberry Bold 60,000 in 14 months
Toshiba Windows Mobile 60,000 in 10 months"
Via PRLog.