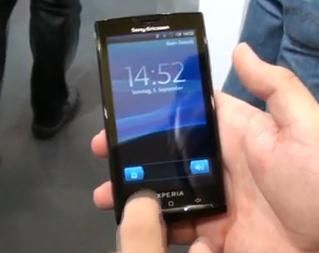 We've already seen some leaked details regarding the Android 2.1 update for the Sony Ericsson Xperia X10, but now we have something a lot more definitive. German site ViMoNews managed to get hands-on with the Xperia X10 at last week's IFA show in Berlin.
The interesting part is that the build they played with was running Android 2.1. They give a two and a half minute preview of the firmware in the video we've attached after the break (from 3:36 to 6:04). Check out the video and our initial observations below.
Update: Another Android 2.1 video has emerged this time showing the live backgrounds. The bad news is that this results in more lag. We also see a demo of the video functions. It's not the greatest video quality but we've included it below. Thanks wimpiedb!

The whole UI seems much faster than current firmware builds.
There is a new slider lock screen.
The X10 now supports 5 homescreens instead of 3.
I noticed no significant changes to Timescape/Mediascape.
It has a new launcher.
The theme shown is darker than our current phones. I have a feeling that the colour choices present currently in Timescape will now apply to the rest of the phone too.