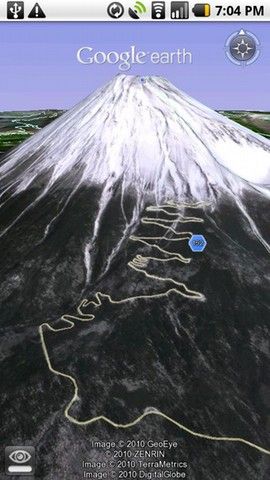 Now that the Android 2.1 firmware for the Xperia X10 family has started to roll out, you may be wondering what now? After you've spent some time seeing what's new with the update, you'll probably want to hit the Android Market to see what new apps you can download.
Well we've done the hard work for you and have listed the top Android 2.1 apps that were hidden from Xperia X10 owners, until now. We have only included a selection of apps that we were personally looking forward to, so there's likely to be others that we've missed. Please let us know which ones you are looking forward to in the comments section below.

Android 2.1 and above apps
BeejiveIM ($9.99) – User-friendly instant messaging app for Android. Supports AIM, MSN /Windows Live, Yahoo!, Facebook Chat, MySpace, GoogleTalk, ICQ, & Jabber.
Business Calendar Beta – Complete calendar app that sync with Google Calendar.
Dolphin Browser HD – Updated browser with a UI upgrade, bookmark folder and 12-language support as well as page management via the address bar.
Google Earth – Use Google Earth to fly around the planet with the swipe of a finger. Search by voice for cities, places, and businesses. Browse layers including roads, borders, places, photos and more.
LauncherPro – One of the most popular launchers on the market.
Music PlayerPro ($2.73) – An advanced music player for Android 2.x devices.
PowerAMP Music Player (Trial) – New powerful music player for Android with an optimized 10 band graphic equalizer for all supported formats and separate Bass and Treble controls.
Skype – Much anticipated. Free Skype-to-Skype calls over 3G or Wi-Fi.
Twitter – The official Twitter for Android application. Clean UI but lacks in features over Seesmic.
Vlingo: Words to Action – Vlingo is the first & only way to send/receive messages, make calls, & get directions completely hands free!
VPlayer Alpha – The main alternative to RockPlayer. Plays pretty much any video file you throw at it (XviD, DivX, WMV, MKV and others).
WhatsApp Messenger – Smartphone messenger that uses your 3G or Wi-Fi (when available) to message with friends and family. Switch from SMS to WhatsApp to send and receive messages, pictures, audio notes, and video messages at no cost.
Winamp – This beta offers a complete media management solution allowing you to sync your music from the Winamp desktop player over USB or Wi-Fi. Other features include persistent audio playback controls, play queue, scrobbling, playlist shortcuts, lock screen & widget player.
Yahoo! Mail for Android – Access your Yahoo email through this app. Features include notifications, Yahoo! contacts, attachment support, smart folders and rich text & emoticons use.
Yahoo! Messenger for Android – The official Yahoo! Messenger app that allows you to chat with Windows Live friends.
Youlu Address Book – A smart phone address book with more powerful contacts, call and messaging capabilities and a funky dial pad.
Android 2.1 and above games
Run, Humanoid, Run! – Set on a spacestation that is about to explode. Along the way don't get shot, avoid the bombs, find keys to unlock the doors, and outrun the killer robots.
Unique Rabbit – Using only running and jumping, help Unique Rabbit reach his goals. Rabbit by the horns, and get ready for a bad hare day!
Live Wallpaper
Best Matrix Live Wallpaper
Enchanted Forest Live Wall
Hulk Live Wallpaper
Galactic Core Live Wallpaper
Snowfall Live Wallpaper
Thunderstorm Live Wallpaper
Android 2.2 and above apps: What we can't download
Adobe AIR
Adobe Flash 10.1
Car Home
Gallery 3D
Google Chrome to Phone
TV Flash
YouTube (version 2.0.26)