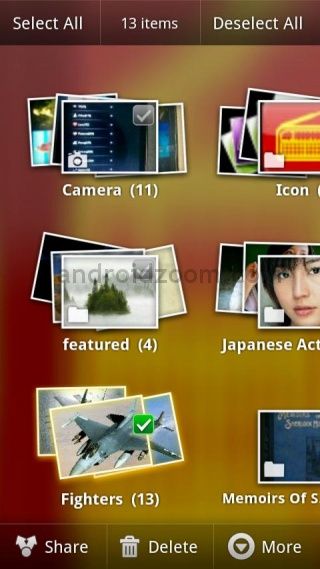 Sony Ericsson has done a good job of burying the stock Android 2.1 3D Gallery deep within the software. This means that if you want to browse your photos and videos, one of the only options out of the box is through Mediascape.
If you want to know what the 3D Gallery is, you can browse it when selecting the picture frame widget (long press the home screen –> widget –> picture frame). However, there's no other way to use this gallery as a standalone media launcher. Whilst Mediascape isn't a bad app, it does have its flaws, so you'll be glad to know that there are workarounds to use the 3D Gallery on your X10.
Launchers
If you are using LauncherPro then you can simply execute the following steps to get access to the default gallery:
Long Press and click 'Shortcuts'
Select 'Activities'
Click 'Gallery' from the List and select Gallery (com.cooliris.media.Gallery) from the drop down menu
A custom shortcut can also be created in the ADW Launcher to do the same thing.
Download APK
For those that are using the Sony Ericsson launcher, the above steps won't work. However, xeviro at xda-developers has created an APK file that basically creates a shortcut to the otherwise hidden Gallery app. We've tested it and it works without any problems. You can download the file here.