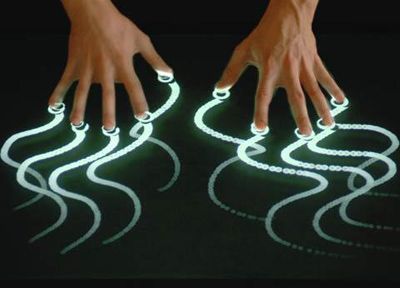 One of the most frequently asked questions I get over the Xperia X10 (apart from when Android 2.1 will be supported) relates to its multitouch features. The handset that has already been released in some regions only features single-finger gestures. It was widely believed that gestures such as pinch and zoom would feature when Android 2.1 is released i.e. its absence being a software limitation.
However, Rikard Skogberg from the Sony Ericsson Product Blog says that the lack of multitouch is both software and hardware limited. His full response is after the cut.
"I don't have any technical details around the screen to share, sorry! – However I have now gotten confirmation on the question of multi touch. As said earlier there's no multitouch in X10 – and I also can confirm that it's not only related to SW but also to HW. Despite this, for future updates of X10 we are of course working on other solutions for e.g. zooming, which has been requested frequently on this blog, such has the solution demoed on X10 mini at http://www.youtube.com/watch?v=Zc3f3twWgzo and similar."
As you can imagine, this has caused a backlash in the comments section. However, it is worth pointing out that there are very few handsets that sport multitouch displays. For example if you look at Synaptics Clearpad solution there are three different solutions. The ClearPad 3000 supports MultiTouch capabilities (up to 10 fingers simultaneously), the ClearPad 2000 has DualTouch (2-finger) touch capabilities whilst the low-end ClearPad 1000 is a SingleTouch solution.
In a following response from Rikard trying to clarify the situation, he seems to confirm that the display is not even dualtouch.
"Regarding the discussion around dual/multi touch. I would definitely expect someone to tell me in that confirmation if it would be dual-touch. So expect it to be single touch only – sorry."
Considering that even much older Android handsets have dualtouch capability, it's surprising if SE only opted for a singletouch display. However, until we definitively know exactly which 4-inch screen the Xperia X10 uses I'm remaining open-minded on this.
Update: Sumit Malhotra from the SE Product Blog has confirmed what Rikard has said:
"Back in November, I posted that X10 will not support multi touch functionality at launch, but will be considered for the future. I can appreciate that even though there wasn´t a commitment, such wording both creates expectations (small or big) on future support and implies restrictions on software side.

That is the information I had in hand at that point of time. I am well aware that you rate multi touch functionality very high and therefore I regret to inform you that X10 screen hardware does not register simultaneous entries. Meaning even though we will upgrade the underlying operating system in relation to upgrading our user experience layer, X10 will not support multi touch functionality. We believe that it is important for you who follow this blog to be clear on that, which is the reason why I want to confirm Rikard's comment."