It was a matter of time before some of the key system files from the Sony Ericsson Xperia arc would be downloaded for all to dissect. Well that time has come, with the system files making an appearance on xda-developers. A number of apps have been extracted, one of the key being the new home launcher that is used in the 2011 generation of Xperia phones.
We've tested the launcher ourselves and it works surprisingly smoothly. Whilst it is not as zippy as the Xperia arc and neo we recently tested, it is not far off. Plus the pinch-to-zoom functionality for the widgets also works quite well, even when a number of widgets are loaded up. You can check out a number of screenshots of the new launcher on our Xperia X10 below as well as full download instructions.

As well as a new home launcher, a few other apps also worked including a Photo, Clock and News widget. The Photo widget caused some serious lag on our handset, but it allows you to scroll through photos/videos that you've taken. The Genie widget gives you weather and news for your location whilst the digital clock widget replaces the existing clock widget on your handset. We've included all of these apks to download in our instructions below.
Install the Xperia arc Home Launcher
1) Download the files you need from here.
2) Unzip the zip file and you will find four apk files (DigitalClockWidget, GenieWidget, Home and PhotoWidget).
3) Copy the files over to your handset using the USB cable or something like Dropbox (our preferred method).
4) Use Astro (or an alternative file manager) to locate the files and install.
5) Optional: You may want to install 'Home Switcher' from the Android Market to easily switch between launchers.

Screenshots of the Xperia arc Home Launcher
The new launcher gives you a tray at the bottom, where you can easily swap out apps to put your favourite ones there. The top of the screen shows you which home screen you are on. What can't be shown by pictures are some of the nifty animations that exist between transitions.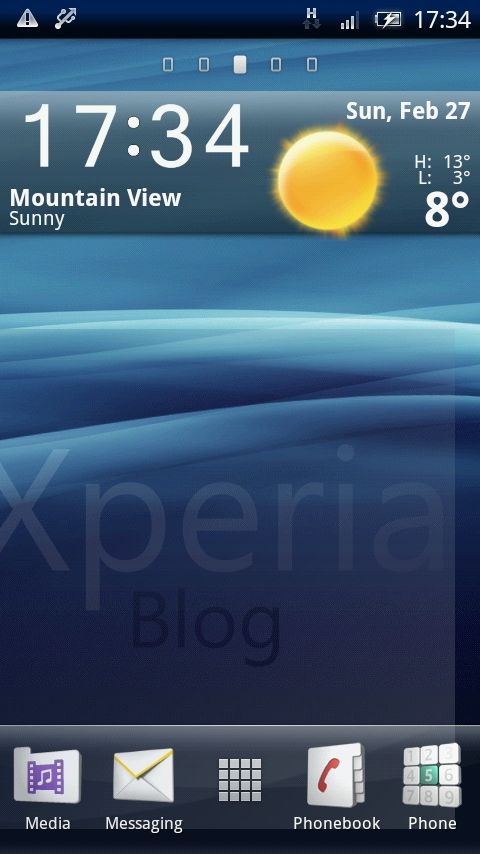 If you pinch-to-zoom you bring all of your widgets into one screen. We noticed little lag despite having a number of widgets loaded up. The big 'Exit Overview' button at the bottom delivers you back to the home screen.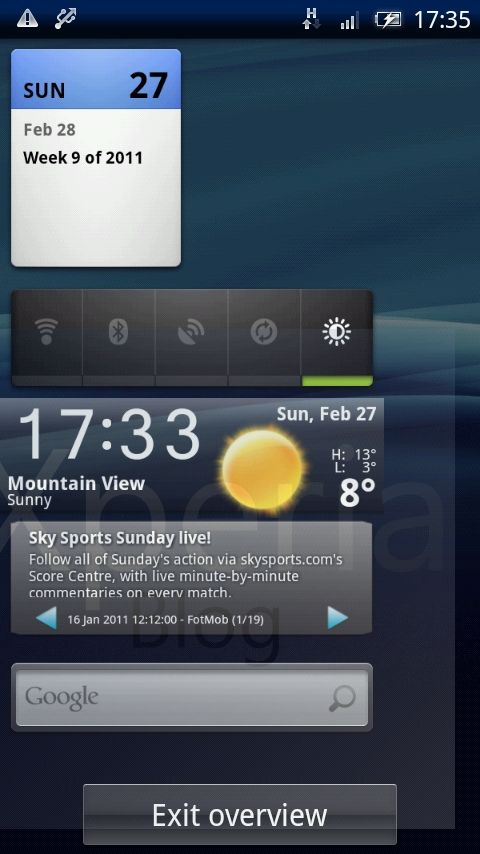 The menu tray screen is different from the X10's scrollable list. The new Xperia range uses a tray system and as you can see below, the tray shows that there are seven 'panes' with all the apps we have downloaded. You just swipe left/right to navigate your apps.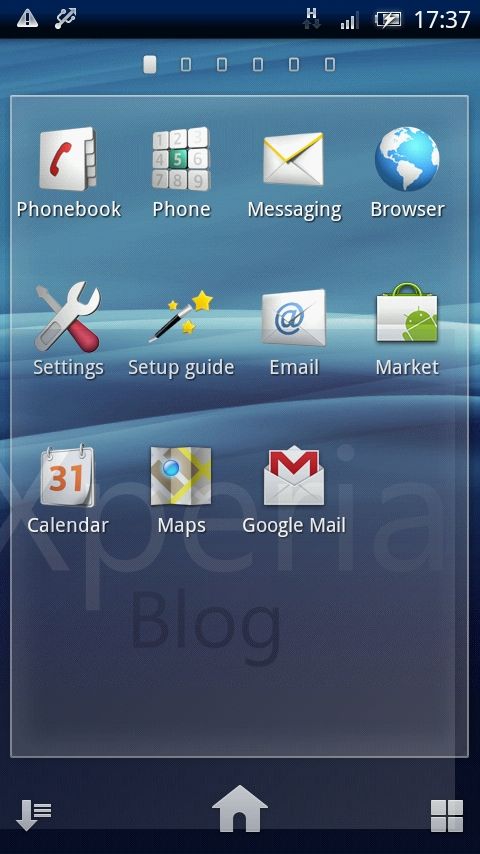 Whilst this may not be everyone's cup of tea, the settings allow you to sort in many different ways including by favourites, alphabetically and recently installed.
Via xda-developers.