We get many emails from Xperia X10 readers asking how to delete certain applications from their handset. There are a number of apps that will start on boot even if you have no intention in using them. These apps use unnecessary memory and processor power and they can also significantly drain the battery. By removing these apps, you should be able to get a small performance boost as well as prolong your battery life.
The guide below shows you which apps are safe to remove, however this will only work for handsets that are rooted. As always this is done at your own risk and you should proceed carefully. However, the method outlined below should reduce the risk as it provides a backup of your apps should things go pear-shaped. So if you're looking to rid yourself of some unwanted apps, check out our guide below.

Tutorial on deleting Timescape and other apps from your Xperia X10 (or X10 mini/X8)
1) Get root access
Rooting your handset gives you the permissions necessary to install custom software on your handset.
Please follow Step 1 from our previous guide on JIT installation for full instructions on how to gain root access.
2) Install Root Explorer
Download and install Root Explorer from the Android Market. This will cost ~$4.05 (£2.50). There are other file managers that would work, but Root Explorer is by far the best and well worth the money.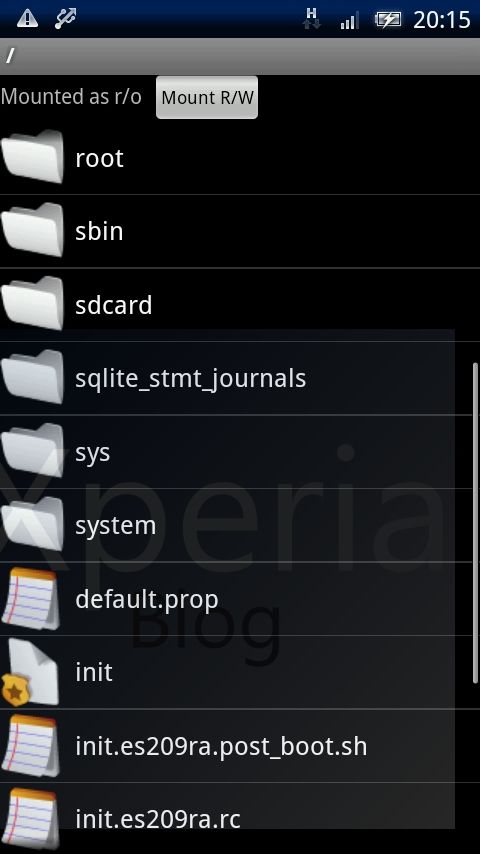 3) Create backup folder on your memory card
Using Root Explorer, browse to the 'sdcard' directory. Press the button at the top so it is 'Mounted as r/w'. Create a backup folder in the root directory. Name it anything you want, you can see that here we have named ours 'Deleted Apps'.
This is the folder that we will move the unwanted apps to. By moving it to the memory card, the Android OS will not see them. The backup means that should anything go wrong you can easily move them back.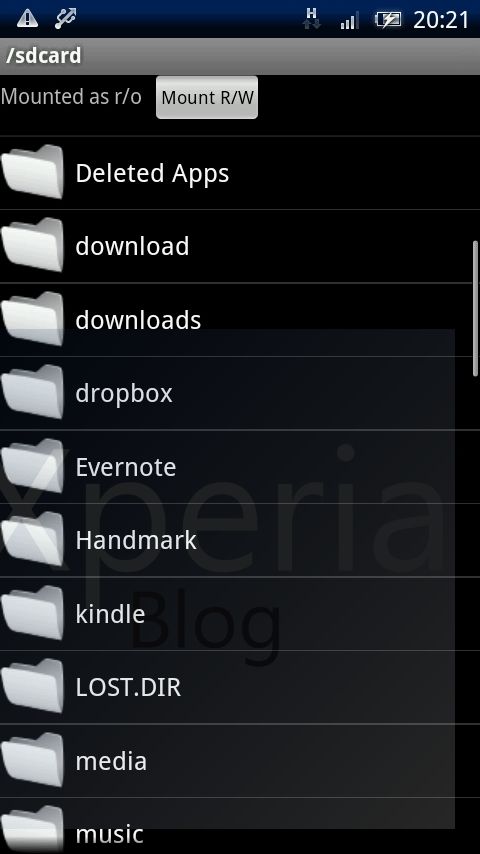 4) Go to the app directory
Using Root Explorer, browse to the app directory 'system/app'. Here you will find a list of all of the apps installed, including all those unwanted ones too. The settings button brings up an option for 'Multi-select'. This will be used to easily move multiple files.
5) Select apps to remove
The next job is to select which apps you want to remove. For the purposes of this example, we are removing all files associated with Timescape. However, we have included a list of apps that are safe to remove at the end of this tutorial. The same method can be used to remove any app.
Click on the settings button and hit 'Multi-select'. Select the eight Timescape files as shown below and then press 'Move'.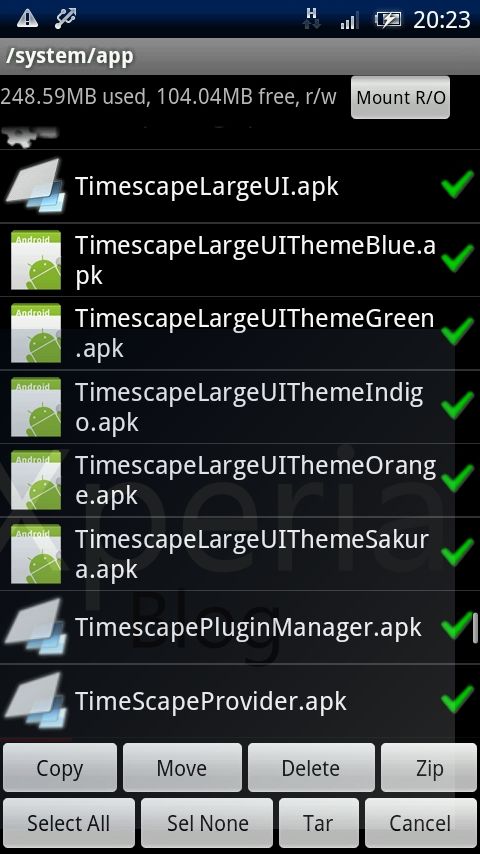 6) Move unwanted apps to backup directory
Now using Root Explorer, browse to your backup folder on your memory card. Make sure the setting at the top is 'Mounted as r/w'. Then click 'Paste'.
All of the chosen files will then be moved from 'system/app' to your memory card as seen below.
7) Restoring apps
If you want to restore apps for whatever reason, the selected files should be moved back to the 'system/app' directory. You will need to make sure the permissions for each restored file are correct as they may not function properly. To do this, long press on each file and select 'Permissions'. This will bring up a Read/Write/Execute grid. You need to make sure that the following boxes are ticked:
Read – Tick all three boxes
Write – Tick 'User' box
Execute – Leave all three boxes unchecked
The finished result should look like the picture below. Then click 'OK'.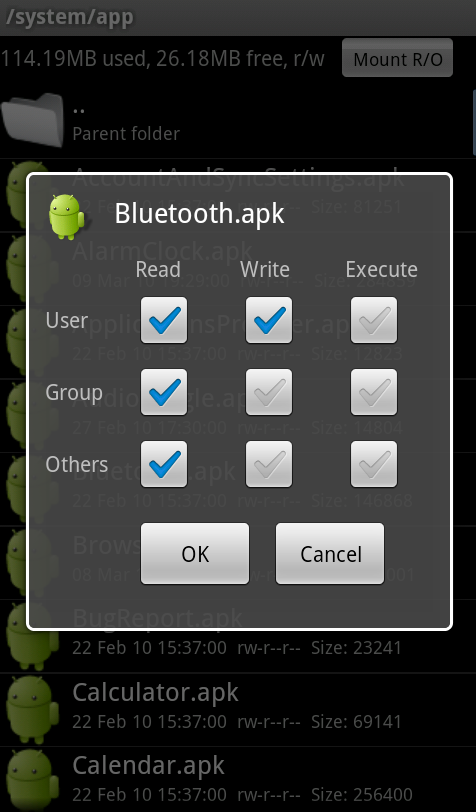 That's all there is to it. See below for a list of apps you may want to remove.
Safe apps to remove
The apps listed below are safe to remove, although you may want to consult this excellent list for further details on each one before removing them.
AlarmClock
Backupandrestore
Calculator
Chinesetextinput
Conversations
CrashSMS
Creatouch
DigitalClockWidget

EManual
EManualLauncher

Facebook
FaceRecognition
GlobalSearch

JapaneseIME
LatinIME
LearningClient

LiveWallpapers
LiveWallpapersPicker

Mediascape
MediascapePluginManager

Moxiermail
Officesuite

PcCompanion

Playnowappinstaller
Playnowback
Playnowclient

qcsemcservice
Quadrapop

SemcCheckin
SemcHomeL
SEMCSetupWizard
SEMCTouchPalKoreanQWERTY

SetupWizard
Stk [Sim Tool Kit]
StatusSwitch

Sync
SyncWizard
OmaDatasyncService

TimescapeLargeUI
TimescapeLargeUIThemeBlue
TimescapeLargeUIThemeGreen
TimescapeLargeUIThemeIndigo
TimescapeLargeUIThemeOrange
TimescapeLargeUIThemeSakura
TimescapePluginManager
TimeScapeProvider

touchnote
usersupport
Wisepilot