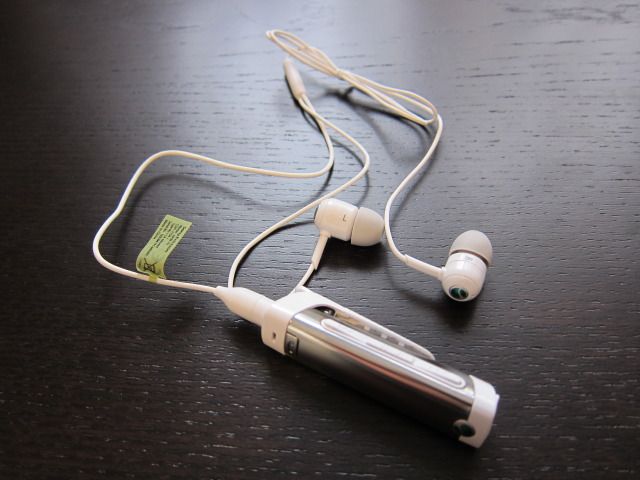 Sony Ericsson was kind enough to send over a brand new white MW600 stereo Bluetooth headset to review. The black MW600 has been on sale for a while now, which we've been using since the Xperia X10 launch. However, for those of you still considering a Bluetooth headset and sporting a white Xperia X10 this white MW600 might be right up your street.
Of course, the great thing about this Bluetooth headset is that you can pair it with any mobile handset that sports Bluetooth. An integrated 3.5mm jack also means you can also use your own pair of favourite cans with the headset. Combining this with a small OLED display, great battery life and a FM radio means the MW600 headset deserves to be on your shortlist if you are in the market for a Bluetooth headset. Click through for the full review.

Sony Ericsson MW600 Specifications
Bluetooth 2.1
OLED graphical display: (12 x 125 white pixels + border of red/green pixels)
Battery: 170mAh Lithium-Ion
Stream time (up to h): 8.5
Standby time (up to h): 500
Talk time (up to h): 11
Charging connector: Micro USB
FM radio playing time up to (h): 11
Dimensions (mm): 17.5 x 15.0 x 62.0
Weight: 13.0 g
Review
In the box
We were sent a pre-release version so we did not receive the white MW600 in its retail packaging. However, we did get all of the accessories that are bundled in the retail version. This included the white MW600 Bluetooth headset, a matching pair of white earphones along with several different sized ear buds. The retail version will also come with a USB charging cable.
Design
If you've not seen the MW600 before, it is very lightweight (13g) and is about the same size as a standard AA battery. The white MW600 isn't completely white. It sports a silver body (painted plastic) with white trim for the buttons along with white trim on the top/bottom of the headset. I'm not too sure of the design myself, but the display coming through the silver body is a nice touch.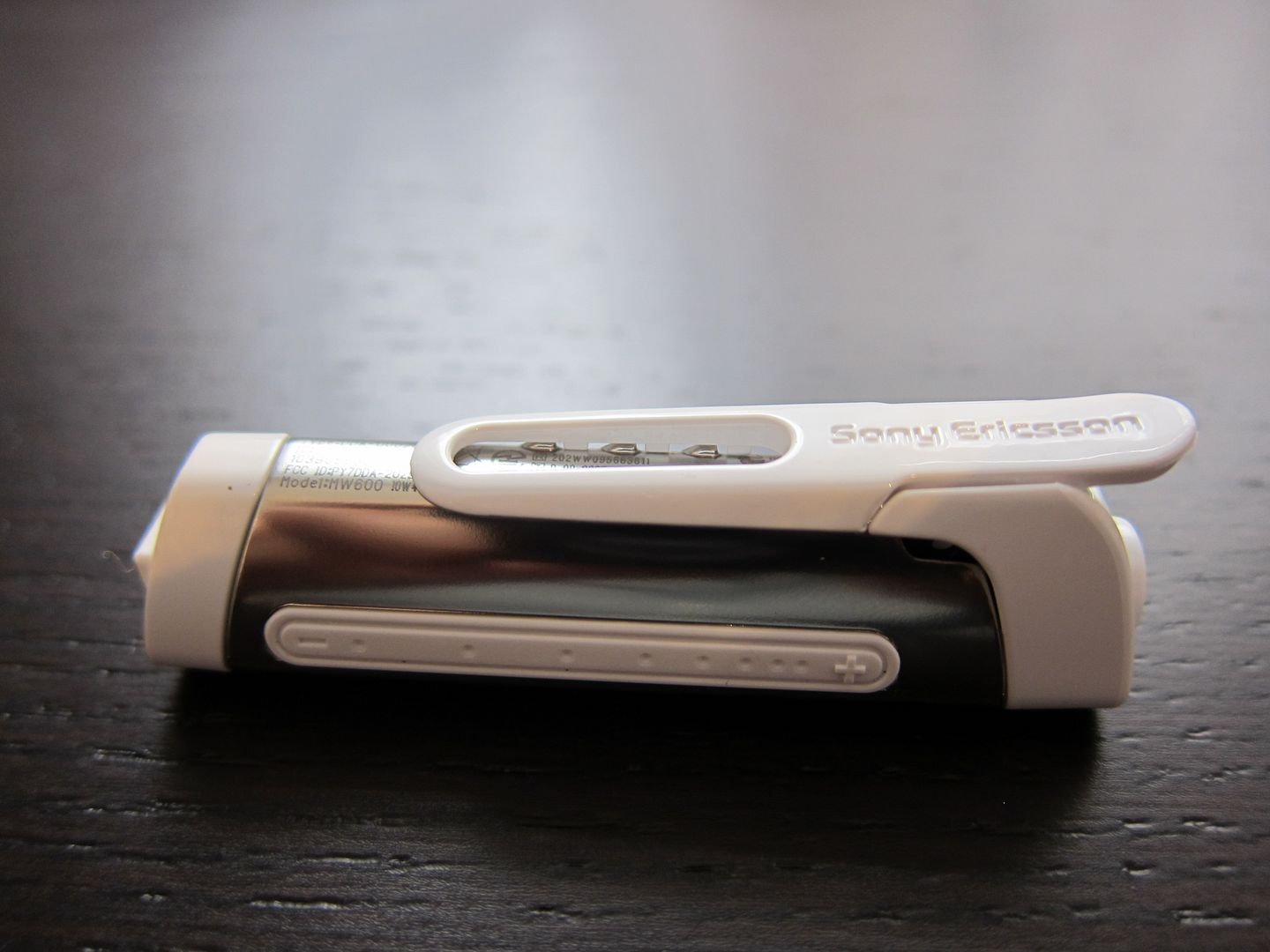 One side of the headset has the touch volume controls (as seen above), whilst the other sports the music playback controls including play/pause/rewind/forward (as seen below). We found that the touch volume controls were quite fiddly in practice, it is open to accidental presses as you only need your finger to touch the surface to move the volume (rather than actually pressing a button).
The bottom of the MW600 houses the 3.5mm jack, and just on top of this, on the main body, you can see the call button.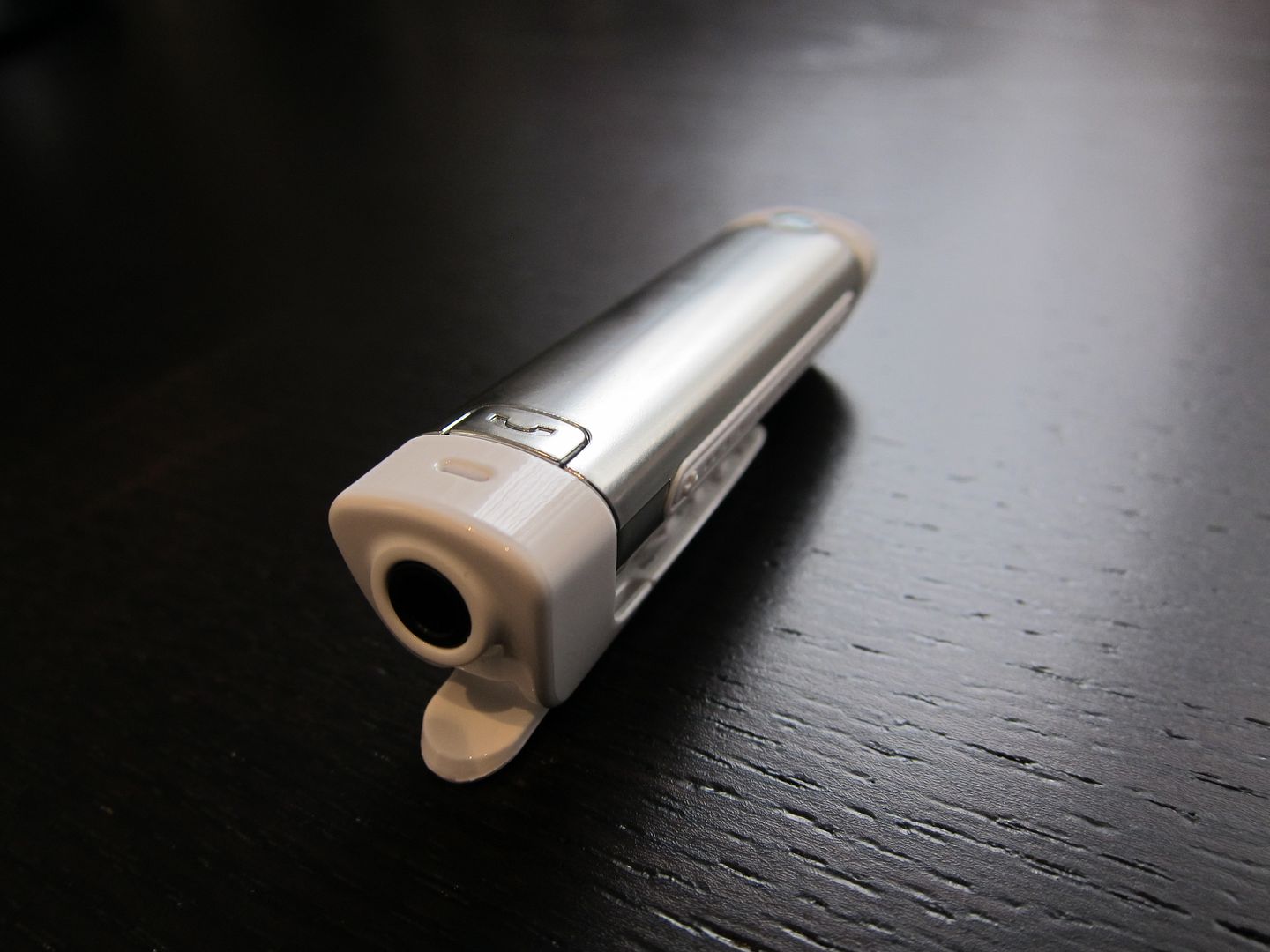 The top of the MW600 houses the microUSB charging port along with the power on/off switch.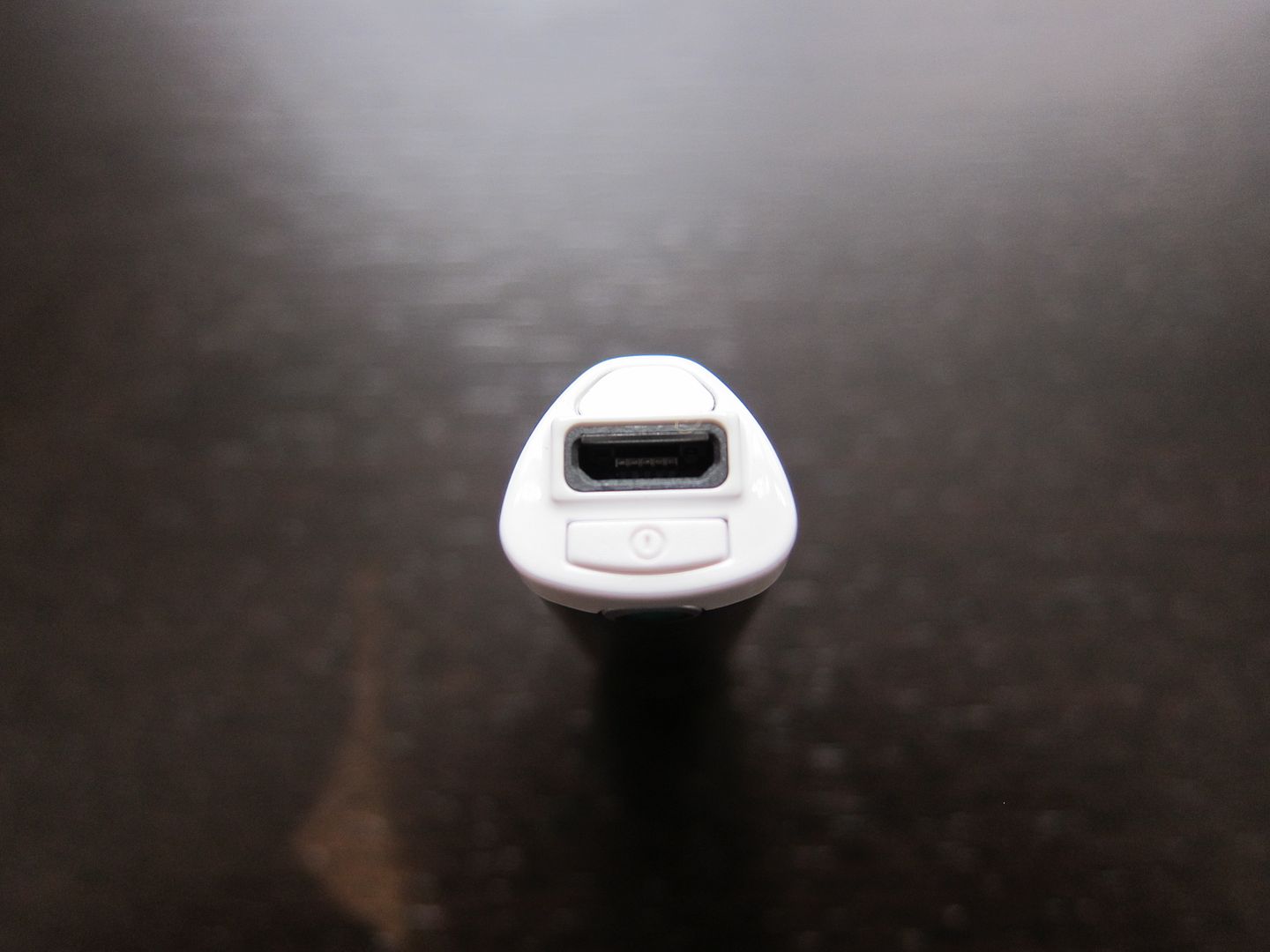 It is good to know that the headset comes with a strong spring-loaded grip and teeth that means clipping the MW600 to clothes should be an easy task. We didn't have any problems attaching the clip to shirts, jumpers or coats.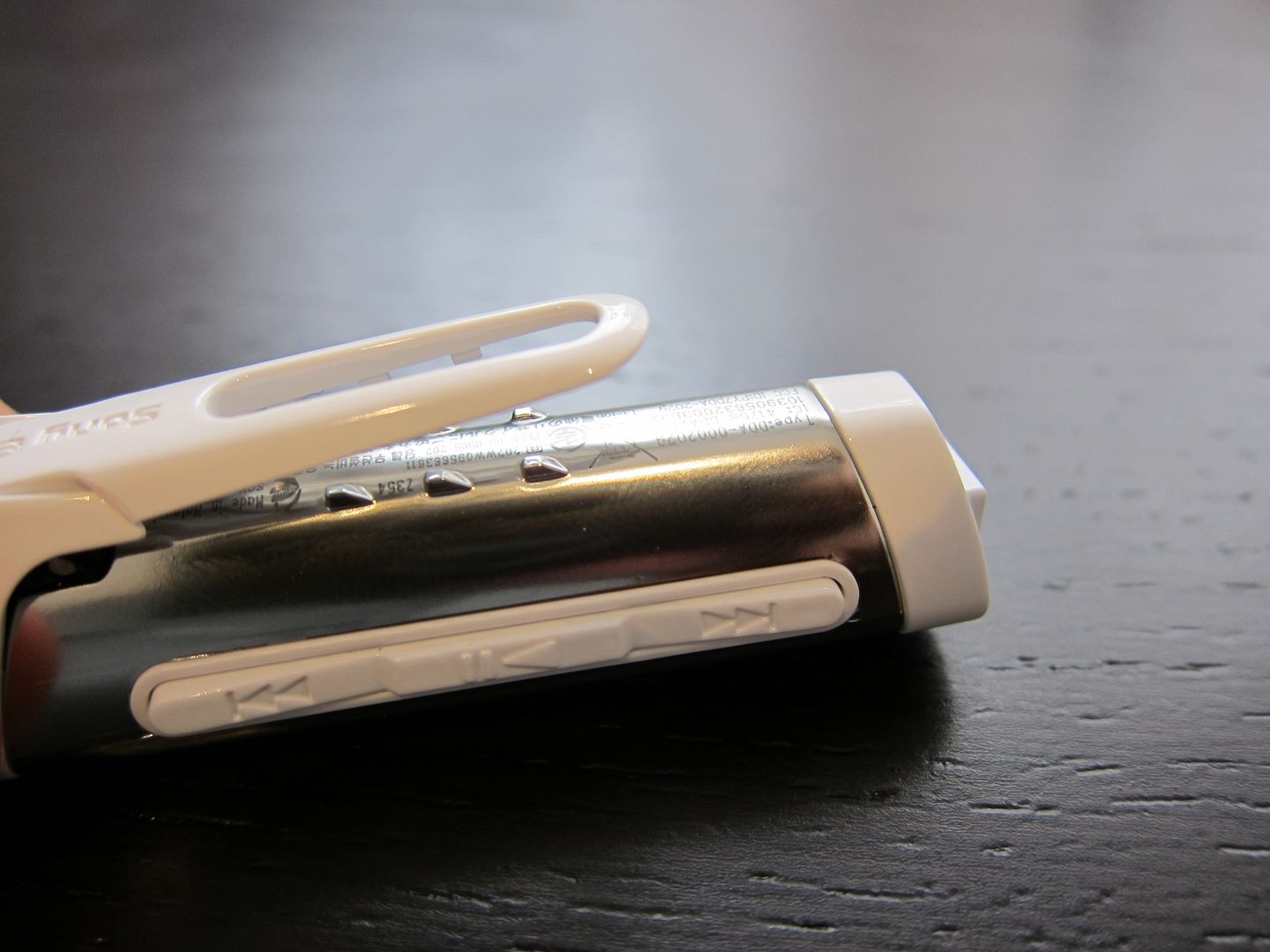 Set up
Set up was no problem with our Xperia X10 picking up the MW600 and requesting a pairing very quickly. The MW600 can be paired with up to three devices (whether that be your laptop, mobile or other device), however only two can be active at any one time.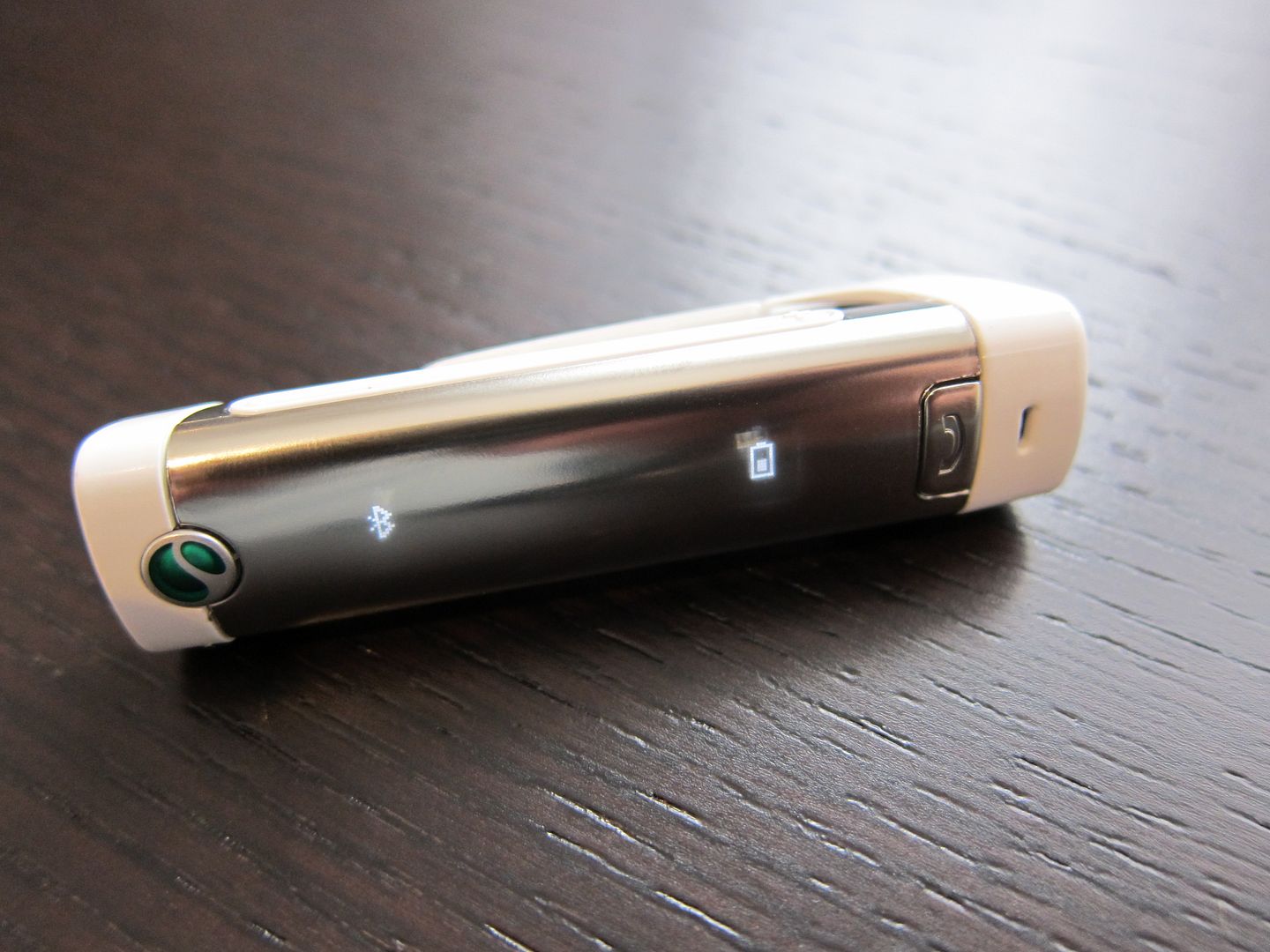 Audio quality/Music playback
In terms of call quality, we found that the MW600's mic did a great job of picking up our voice despite being placed in different places around our neck/chest. Despite the issues with the Xperia X10's in-ear call volume, we had no problem hearing the caller on the other end when conducting a call. Around 50 percent volume was fine to conduct a conversation even against the backdrop of a busy road.
Unfortunately, the caller ID or track ID function does not seem to work with the Xperia X10. This means that when someone calls you can only see their number and not their name. We thought this may have been sorted once the Android 2.1 update arrived, but disappointingly there's been no change on this front.
Holding down the play button brings you to a menu where you can also select to listen to AM or FM radio through the device. The navigation wasn't the most intuitive and requires some time before you get used to it. You use the FF and RW buttons to move up by .05 increments. A long press will cause the tuner to scan to the next station. An annoyance is that radio stations cannot be saved.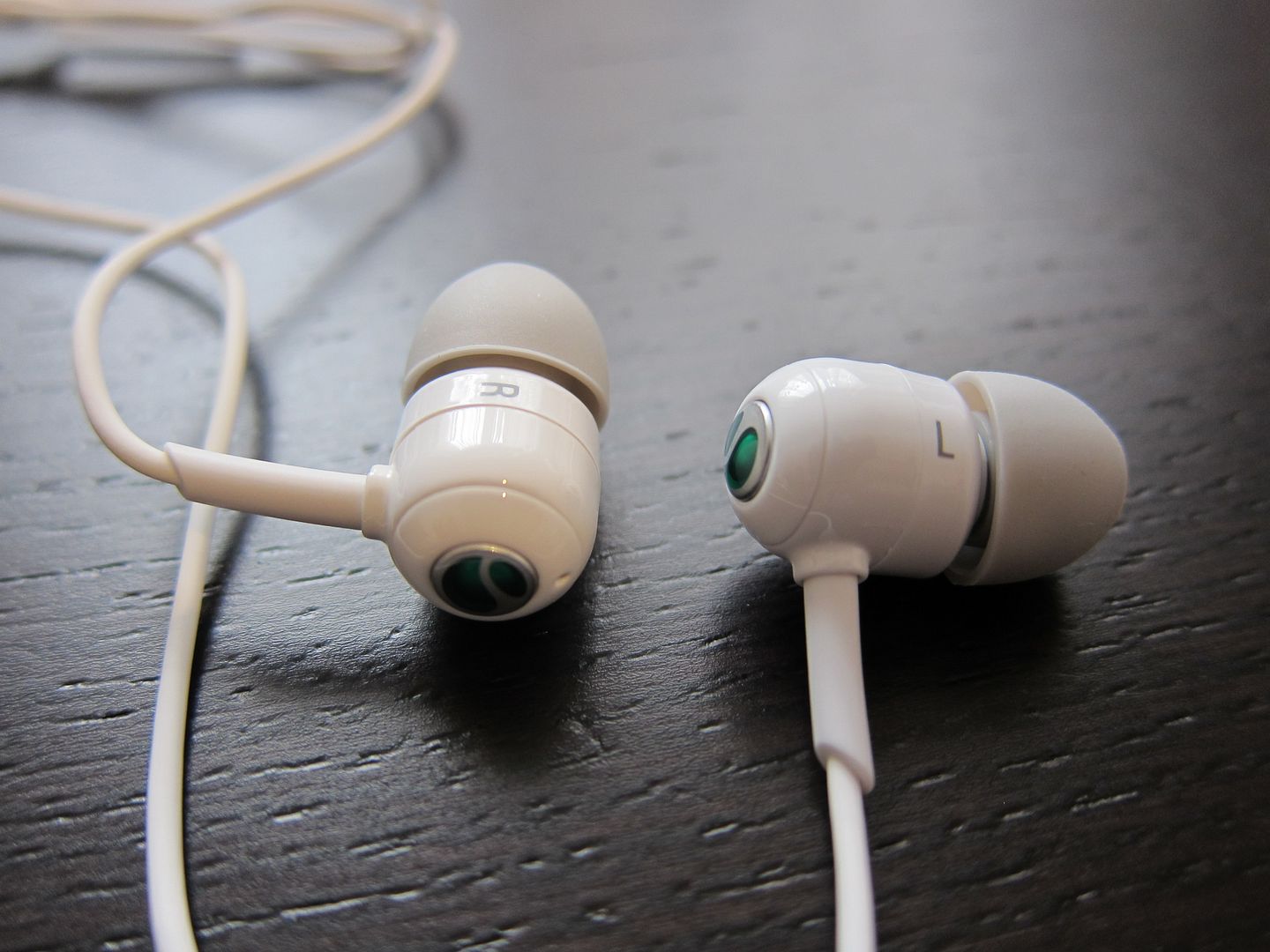 The headphones themselves are of reasonably quality and quite comfortable too. Four extra ear buds are provided of different sizes to ensure that the fit is as comfortable as possible.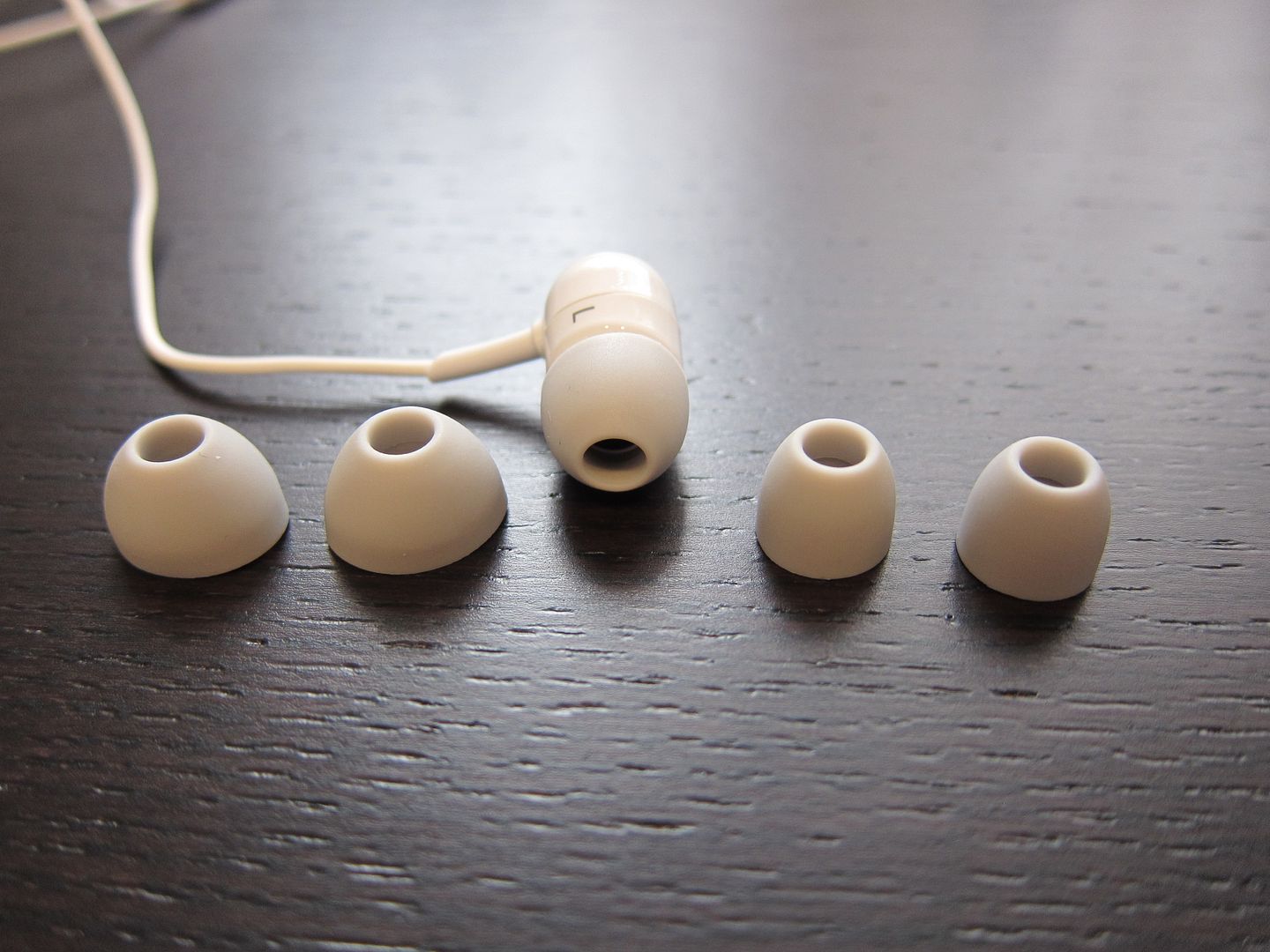 Battery life
Battery life is one of the stand-out features of the MW600. Depending on usage, it will only need charging once every few days. The micro USB port also means that it can be charged from any PC/laptop.
Conclusion
Overall, the biggest positive we can give the MW600 is that it has become part of our daily lives. It is small, lightweight, connects easily to most phones we've tried, it offers good call quality, an FM radio and great battery life. However it's by no means perfect, even with the Android 2.1 update, there is still no caller ID or music track display on the MW600. Despite this, the Sony Ericsson MW600 is well worth being on your shortlist if you're in the market for a Bluetooth headset and at around £30 offers great value for money.
Positives
Small & lightweight
3.5mm jack to enable one to use any headset
Charing via ubiquitous micro USB
Clear readable display in most conditions
Good battery life
Mic delivers clear sounds/good sound quality
Up to three Bluetooth pairings
Negatives
Not full functionality with Xperia X10
Fiddly touch volume control
White may not go with all earphones
Many thanks to Sony Ericsson for sending us the white MW600 stereo Bluetooth headset for review!