Judging from our last poll, the vast majority of you are running stock Sony Ericsson firmware, despite the various custom ROM options. Well many of you may not be aware that there is an easy way of enhancing your X10 performance by installing a JIT (just-in-time) compiler.
JIT compilation is a method to improve the runtime performance of your handset. Rather than translating code continuously during every execution, JIT uses caching to minimize performance degradation. The tutorial below shows you how to install JIT and was written so that all of you not wanting to change ROMs can at least benefit from an easy performance boost. We managed a near 60 percent performance boost, you can too by following our simple guide.

Tutorial on installing JIT on your Xperia X10
[The guide may seem a bit daunting, but trust us, it's all very simple to do. Please read each section carefully before you start. The Xperia Blog absolves itself from any responsibility, please proceed with caution and at your own risk.]
1. Get Root Access
Rooting your handset gives you the permissions necessary to install custom software on your handset.
a) First, you will need to install the necessary drivers onto your PC. Therefore, make sure that either Sony Ericsson PC Companion or Sony Ericsson Update Service is installed on your PC.
b) Download SuperOneClick 1.55 to your PC.
c) Enable USB de-bugging mode on your Xperia X10: Setting –> Applications –> Development –> Tick 'USB debugging'
d) Connect the X10 to your PC.
e) Open up Windows Explorer and locate the SuperOneClick folder. Start the program by double clicking on the main application. Click the 'Root' button.
f) Let the program run and once finished you should see the following prompts.

g) The phone should now be rooted, you also have the option to donate to the guys behind the program. Make sure you restart your handset before the next step.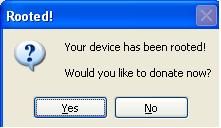 2. Install Busybox
Busybox is a tool pack that brings additional handy LINUX / UNIX based commands. We need to install this app as some of these commands are needed for certain root level tasks.
a) Open Android Market, search for the 'Busybox' app and install.
b) Open the installer, click OK to comply with the license and then click the "Install" button. Once completed you should see the screen below.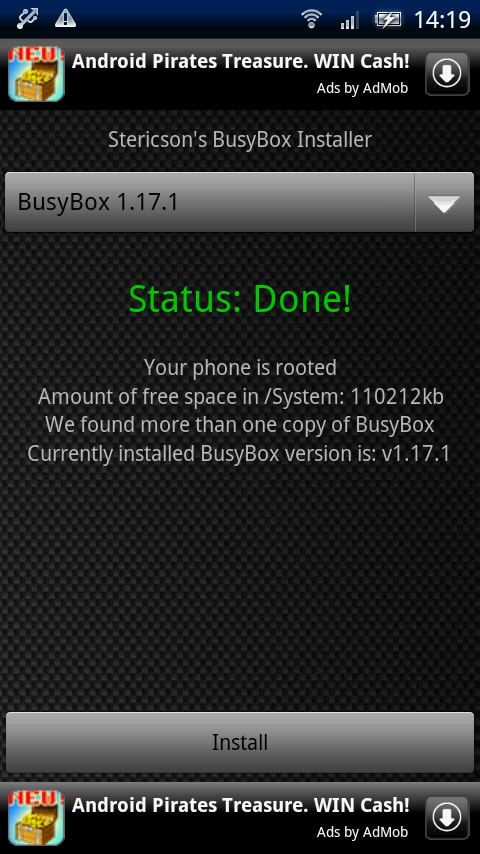 3. Install xRecovery
xRecovery is a custom recovery console that allows you to manage backups and install ROMs, themes and applications from zip files. Other functions include the ability to wipe your phone and manage partitions.
a) Download the latest version of xRecovery from post one of this xda-developer thread. At the time of writing the latest version is 0.3-release.
b) Transfer the apk file to your memory card on the Xperia X10. We find the easiest way to do this is via the Dropbox client.
c) Open the file using a file manager such as Astro (find it in the Android Market) and install the apk as seen below.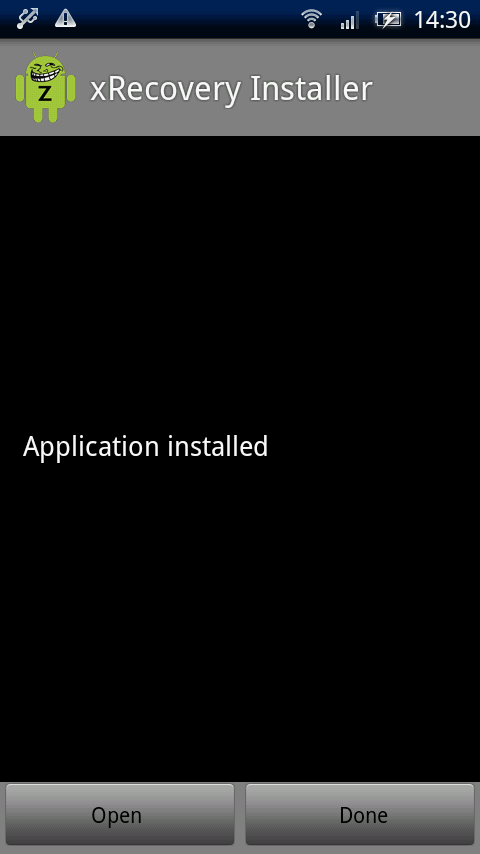 d) Scroll to your list of apps and find 'xRecovery Installer'. Click on the app and then click on 'Install xRecovery'.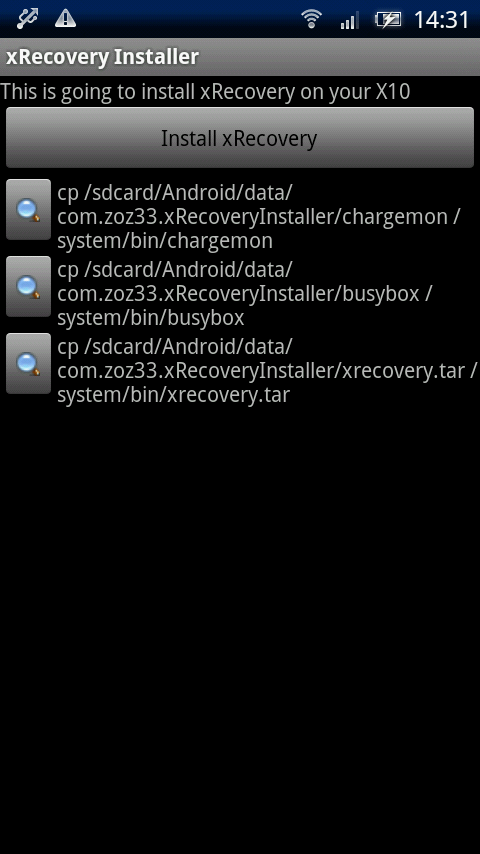 e) After a few seconds the installation should be complete and you should see a screen like the one below.
f) Now test xRecovery. To boot into the console, restart your phone and press the back button a few times after the white text Sony Ericsson logo appears. Once it starts, use the volume-up and volume-down buttons to scroll through the menu. Press the home button to select an option and the back button to go back.
4. Install JIT
As described in the opening paragraph, the Just-in-time compiler will help to boost the speed of your Xperia X10.
a) Download JIT Enabler v2 from the first post in this xda-developer thread to your PC. Do NOT unzip the file
b) Transfer this file to your Xperia X10 memory card. As before, we use the Dropbox app and PC client to easily transfer files between handset and PC.
c) Restart your handset and boot into xRecovery as described in step 3f.
d) From the xRecovery menu select 'Advanced Options' and then select 'Wipe Dalvik Cache'. It will ask you whether you are sure, select 'Yes – Wipe Dalvik Cache'.
e) Whilst still in the xRecovery menu, select 'Install custom zip'. Select 'Choose custom zip from sdcard' to browse where the zip file is located on your memory card and install the file.
f) Once installation is complete, reboot the handset by selecting the 'Reboot phone' option from xRecovery.
g) The first reboot once JIT is installed will take a very long time, just like when a new firmware is installed. Give it a few minutes and your X10 should eventually reboot as normal.
Congratulations!
You should now have JIT installed on your phone. To give you an idea of the performance boost, you can see our quadrant scores both pre and post the installtion of JIT. A near 60% performance boost isn't bad for not much work. The best thing is that it doesn't involve re-installing apps or the use of custom ROMs.
Pre JIT Quadrant score
Post JIT Quadrant score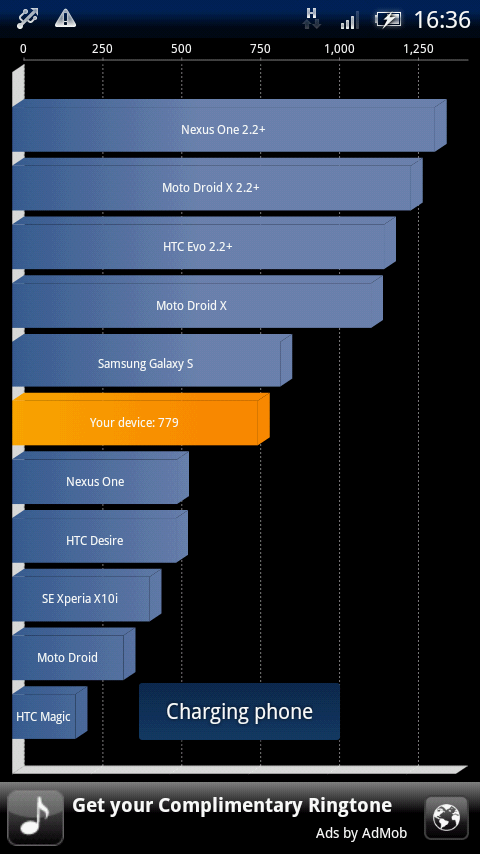 All credit for this work goes to the wonderful developers over at xda-developers.