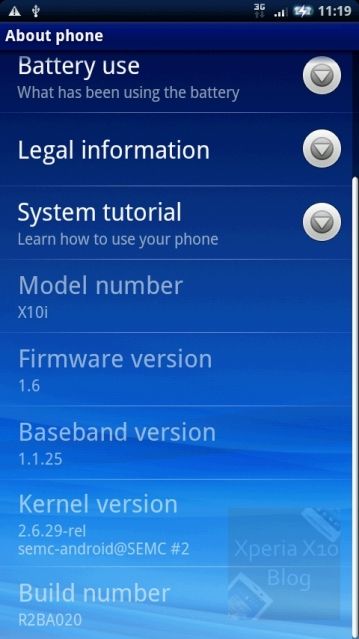 The much awaited firmware update for the Sony Ericsson Xperia X10 looks like it is slowly starting to roll out. After rumours of hearing about the 'R2BA013' and 'R2BA016' firmware updates, the one actually being released is 'R2BA020'. The most up to date Xperia X10 firmware prior to this release was R1FB001.
This update has brought with it a number of improvements including small UI changes in the Timescape/Mediascape apps, a new slide animation when browsing the gallery as well as a performance and battery life boost. Sony Ericsson has also included a 'Backup and Restore' application that was much needed. However, the much talked about Creatouch app remains absent in this firmware update, you'll have to download this directly from PlayNow as before.
As of writing, only branded firmware updates have been released thus far, one from Telenor (Sweden) and the other from O2 Germany. We've included both in our debranding tutorial for download. Just for reference we moved straight from R1FB001 to R2BA020 without any problems. Below, we walk through our preliminary impressions of this new update.
Video impressions of 'R2BA020' Xperia X10 firmware update
R2BA020 Xperia X10 firmware thoughts
There are two branded updates that you can download right now (check out the debrand tutorial for the download links). We tested both the R2BA020 Telenor update along with that of O2 Germany.
Telenor has more branding in terms of apps and widgets. This includes apps such as Navigation (Telenor branded), Prisjakt, SVT Play, Sypernytt and tv.nu. Branded widgets include Aftonbladet, Nojesbsbladet, Sportbladet amongst others. The O2 Germany update is much cleaner and has around three branded apps. It is worth noting though that I found no noticeable performance difference between both firmware.
Performance and Benchmarks
This is difficult to judge given that I had effectively done a complete factory install. This means that the X10 wasn't bogged down with the sheer number of apps that are loaded when using my Xperia X10 on a day-to-day basis. Personally, I didn't notice much difference in speed from the R1FB001 update (although this itself was an improvement from earlier updates).
However, by running 'Benchmark' from softweg (found in the Android Market) I was able to compare the scores from previous firmware. You can see the results below and it's clear to see that R2BA020 is faster than previous updates.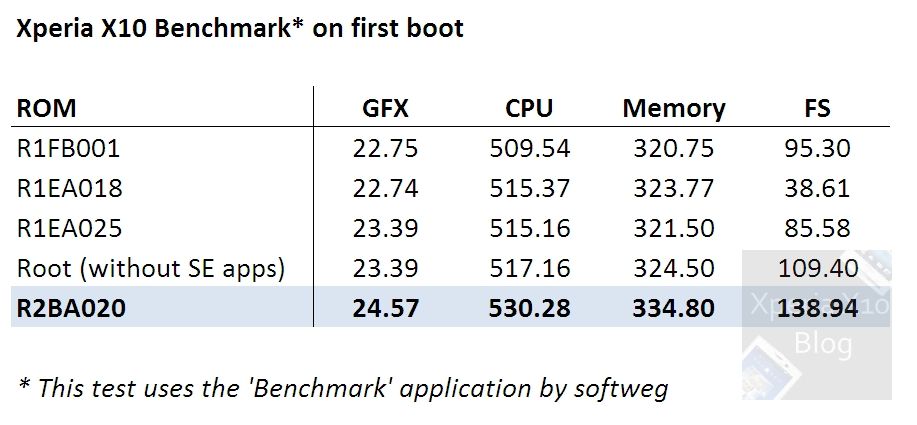 Battery
I will not be commenting on battery life, until I've had a good chance to test it properly. I already had found battery life to be improved in the R1FB001 update and so far I haven't noticed anything substantially different.
Timescape
The biggest change in Timescape is the ability to change the background colour from a pre-defined selection. It's a shame that you cannot use your own wallpaper or your own colours here, but it's an improvement nonetheless. What I find a shame is that you cannot make the same 'theme' changes across the rest of SE's UXP (including Mediascape that remains blue).
Another much-needed change includes an option in the settings to remove Timescape updating automatically every time the app starts. This has been introduced to reduce lag and is a welcome addition. Even with this ticked though, Timescape performance seems much improved.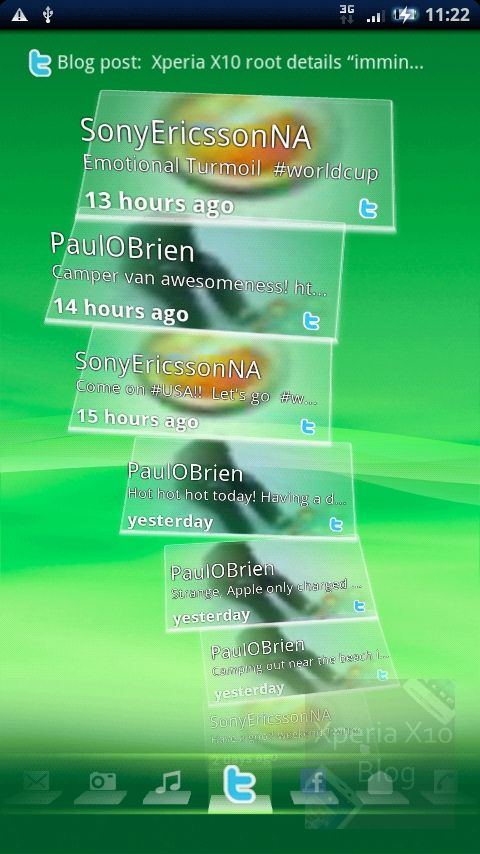 Mediascape
There have been some small UI changes although you do have to look for them. First of all, there are new icons for 'Music', 'Video' and 'Photo' at the bottom of the app. Each will glow when selected that adds a nice effect.
Mediascape also loads faster than before. However, when viewing an album for the first time, it is still painfully slow waiting for all of the images to be cached.
The gallery slide animations have also changed and appear to scroll more smoothly.

'Backup and Restore' app
Sony Ericsson has included a new backup app in this update called 'Backup and Restore'. It allows you to backup data to your memory card including browser bookmarks, call log, contacts, messages, Multimedia Messages, System Settings and dictionary (including any words added). A copy of the downloaded applications will also be included in the backup file. Backups can also be scheduled. A very welcome addition.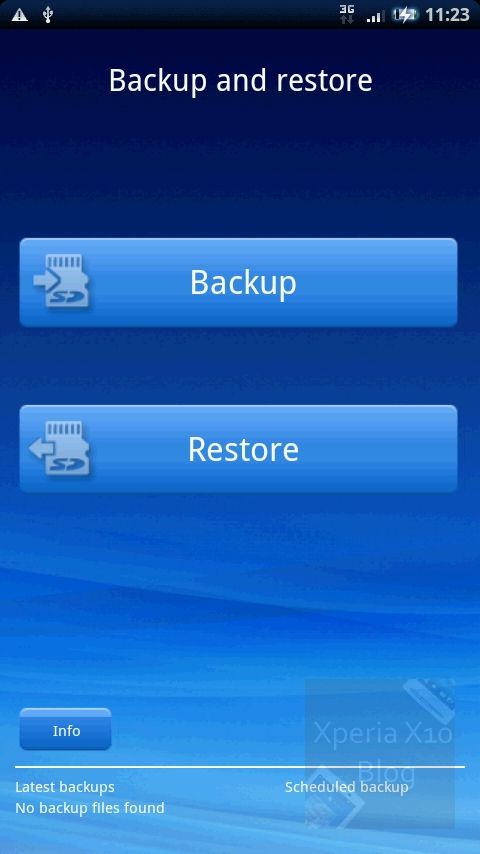 Keyboard
The standard keyboard feels a tad more responsive although it's not a massive change. Also there are now additional language keyboards installed, such as Korean and Chinese.
Alarm Clock
There are now a greater selection of clocks to select from in the Alarm Clock app. This includes some very abstract ones.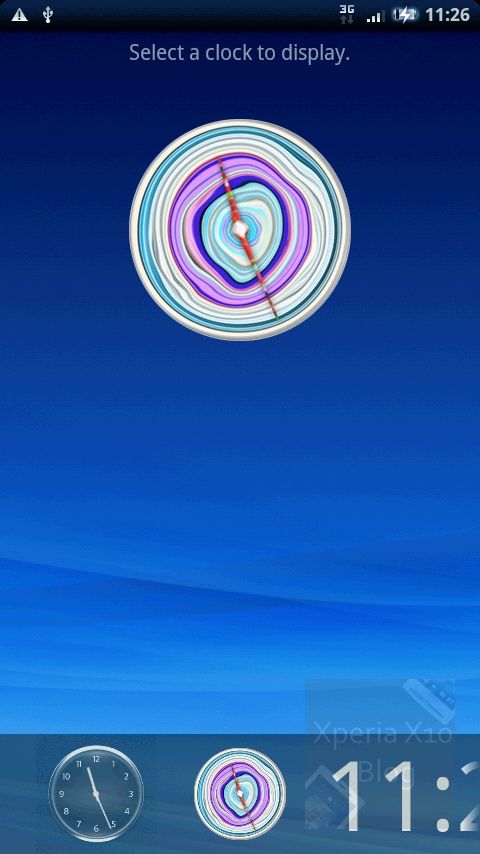 Screen responsiveness
The touchscreen is more responsive and colours appear to be more saturated.
In-call Volume
I've not noticed any improvements here so far. In-ear call volume is relatively low compared to other handsets.
External Speaker
The speaker is louder. It's still not as loud as other handsets like the Samsung i8910 HD I have lying around, but it's an improvement over the older updates.
Camera
I didn't notice any big changes for the camera. However, the menus are quicker and the camera appears to focus faster too.
Playnow
This now Includes an option to log into account from the start. I didn't notice too much different here, although Playnow is not something I've used extensively.
Missing apps in Market
I'm not sure if this is due to the Telenor branding, but I have noticed several apps missing in Android Market. This includes MyBackupPro, which meant I couldn't restore my settings, apps.
No Creatouch app
The Creatouch app was meant to be included but it remains absent in this update. The only way that you can get this app is through Playnow. Maybe, we'll see it appear in the next update!